Besides the built-in template tag, custom_field_image(), now we have the [<i></i>cfi<i></i>] shortcode, which means that not only can you put the image anywhere in the layout, but anywhere in the post content, too.
Other Features
Easy install: theme code editing required only for advanced use.
Bulk management: import, export and delete images in one click.
Simple management box under the post editing screen:


Settings page: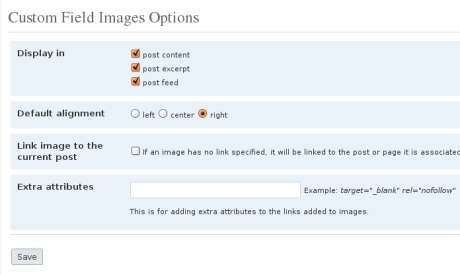 Version history
1.6: added shortcode; duplicate alt. text as title
1.5: import / export functionality; option to automatically link to associated post
1.4: extra attributes for image link
1.3: one field per image instead of 4
1.2: general improvements
1.1: added page support
1.0: initial release