Consistent Buttons
Since the initial 2.0 release, the editing UI has gone through constant improvements.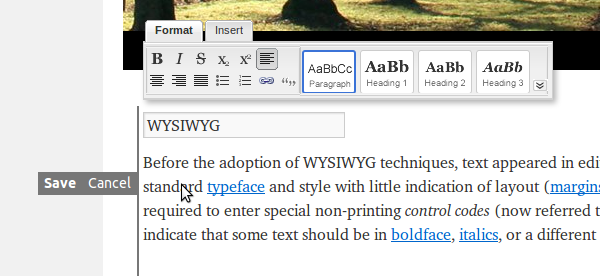 As you can see in the screenshot above, the Save/Cancel buttons now appears in place of the Edit button. This provides a consistent, easy to reach location and makes the UI more uniform in general.
As a side-effect, you can have multiple elements open for editing at the same time again.
JavaScript API
Besides the PHP hooks, Front-end Editor also has a JavaScript API, which you can use to customize the editing experience further.
Vulnerability Fix
There was a demo file bundled in Aloha Editor which allowed arbitrary file uploads. The offending file has been removed in the current release of Front-end Editor.
Therefore, updating is highly encouraged!